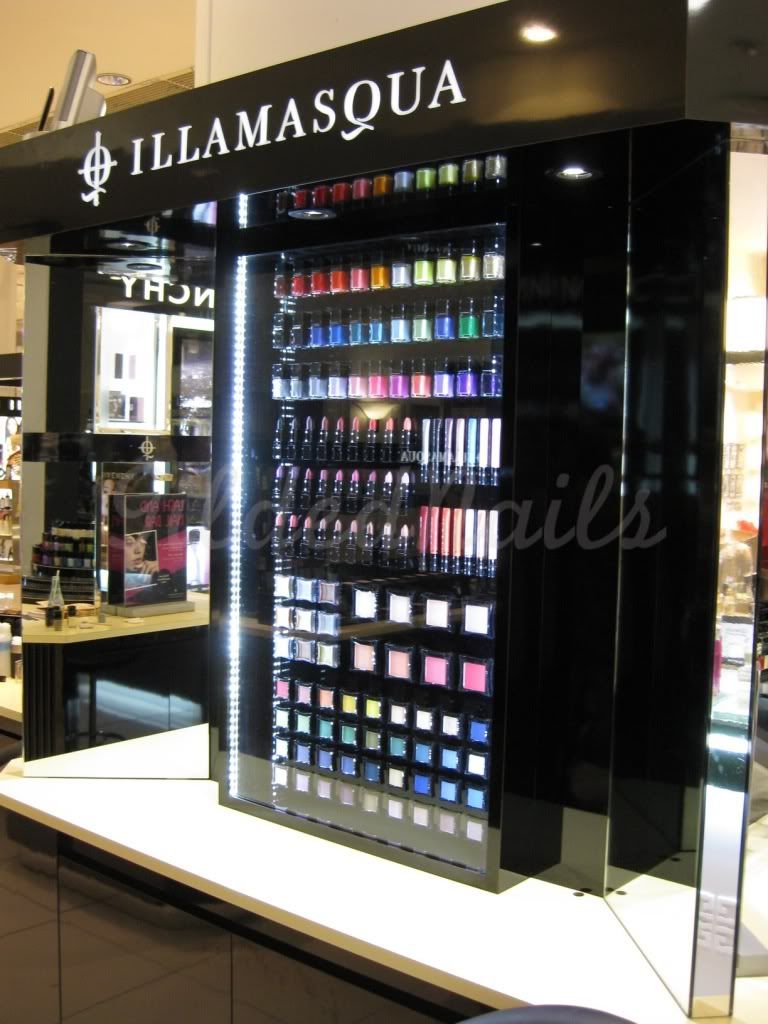 Hey everyone! Sorry for being MIA this past week! Unfortunately I had some wedding related dramas this week, so I haven't really been in the mood to blog....
However, last night, I was lucky enough to attend one of the first ever Illamasqua Nails Masterclasses held in Australia with the celebrity manicurist Mandi Levanah, and I just had to get online to tell you guys about the class and show you the pics!
The aim of the masterclass was to teach us how to achieve a lasting manicure as well as providing tips on different colour combinations and how to create some fun nail art designs.
Mandi's amazing work has graced the pages of Vogue and Harper's Bazaar and she has also worked with
Rhianna, Pink, the Pussycat Dolls and Nicole Richi, so this lady knows what she is talking about!
Here is a quick run down of Mandi's tips from the Masterclass:
When filing the nail, it is best to use one with a 'fine' abrasive surface such as a 240 grit file. This will prevent damage occurring to the nail when filing which can cause the nail to peel on the tips.

The most flattering nail shape for a person is usually one that mirrors the natural contours of the base of the nail.

However, she noted that it also depends on fashion and your preferences, so choose a shape that makes you happy!

Don't paint your nails

straight after soaking them in water or having a shower. Water relaxes and changes the shape of the nail and if you paint them when they are still damp and relaxed, as they dry and reshape, the nail polish can crack, peel and bubble. As such, the best time to paint your nails to ensure a lasting manicure is when they are completely dry!

Use a nail prep whenever possible so that all moisture and surface oils are removed and you have a clean, dry base to work with.

ALWAYS use a base coat before applying your polish.

When applying the polish, use the three stroke technique (for a pretty good demo of this technique, check out this post) and don't load the brush with too much colour, otherwise it will run down the brush and flood the nail.

Always leave a 1-2 millimetre gap between the polish and your cuticles.

If you get polish on your cuticles or too close to the cuticles, use a small, fine makeup brush dipped in acetone to clean up the cuticle area (I use the technique in this post).

Always use a top coat to ensure your mani lasts. If you want it to last for at least a week, refresh your top coat every second day.
I think the best tip I got from Mandi was to be creative and not be afraid to use colour and mix things up a little with some nail art and funky colour combinations!
Now here are a few pics of the master at work!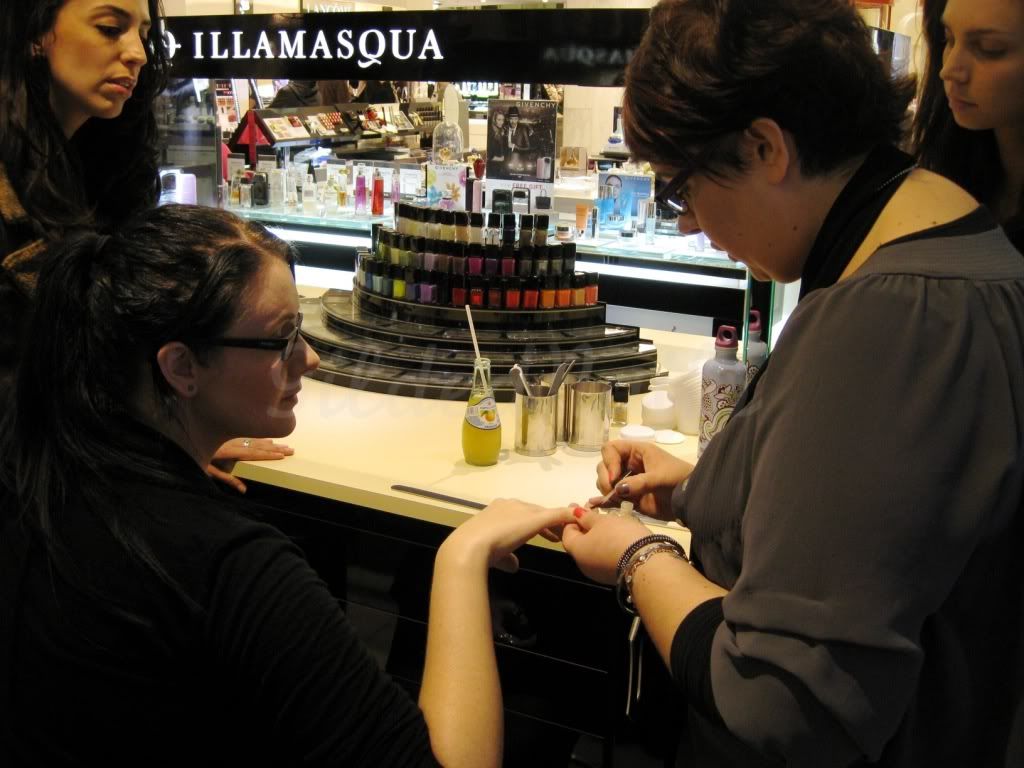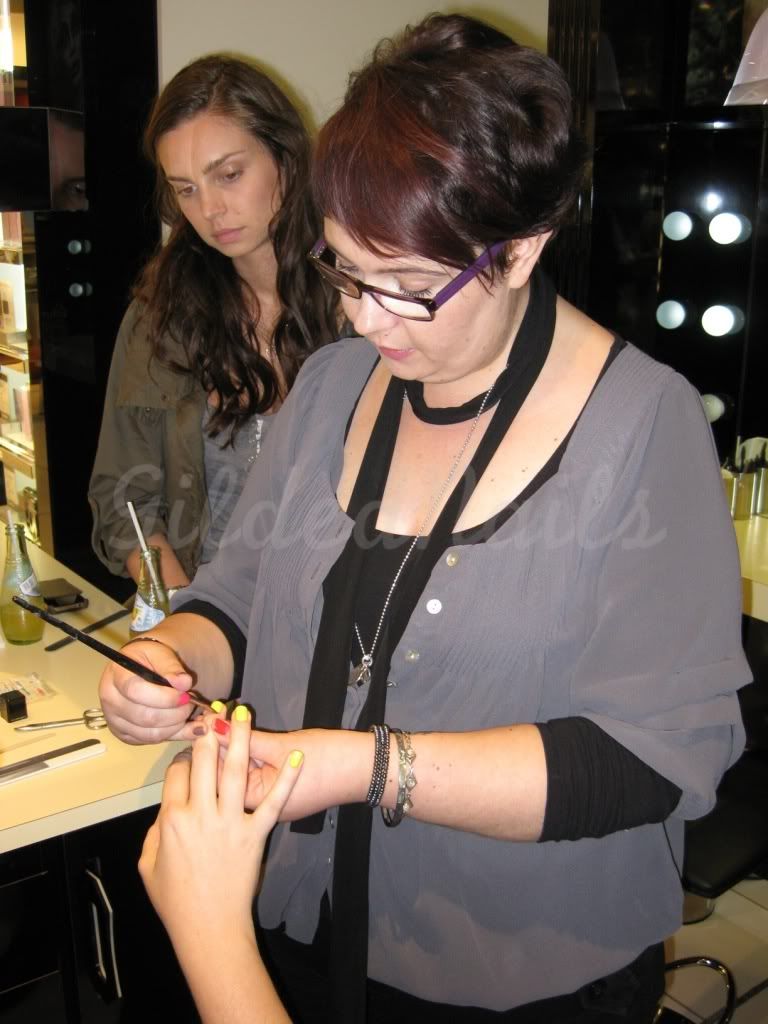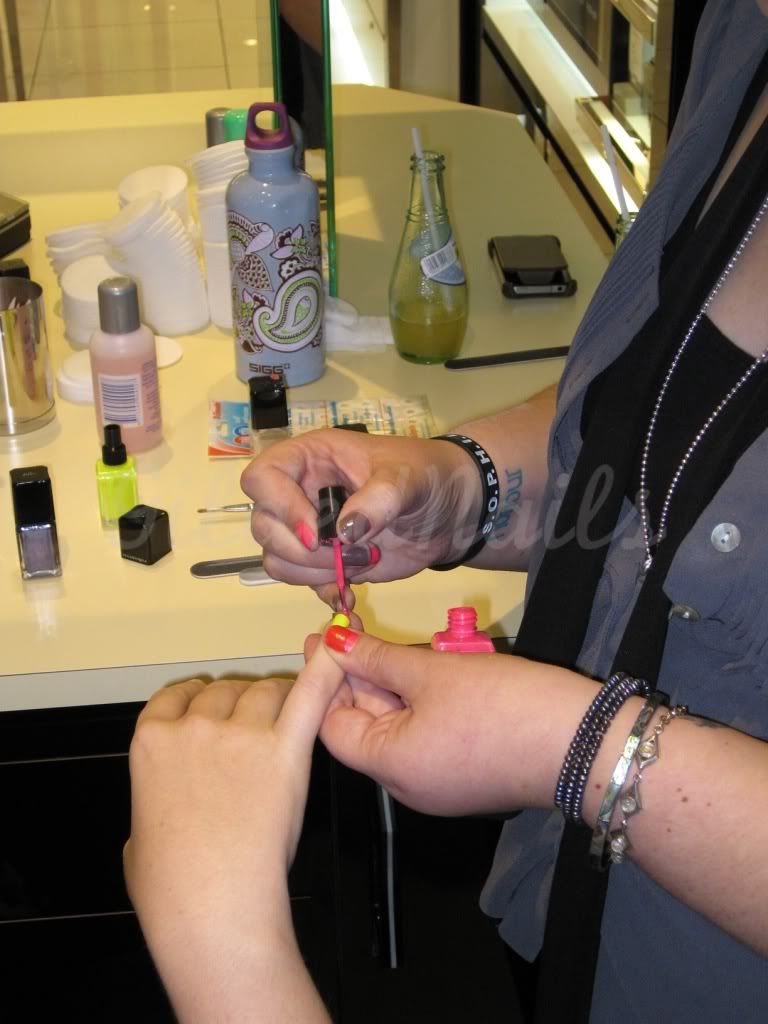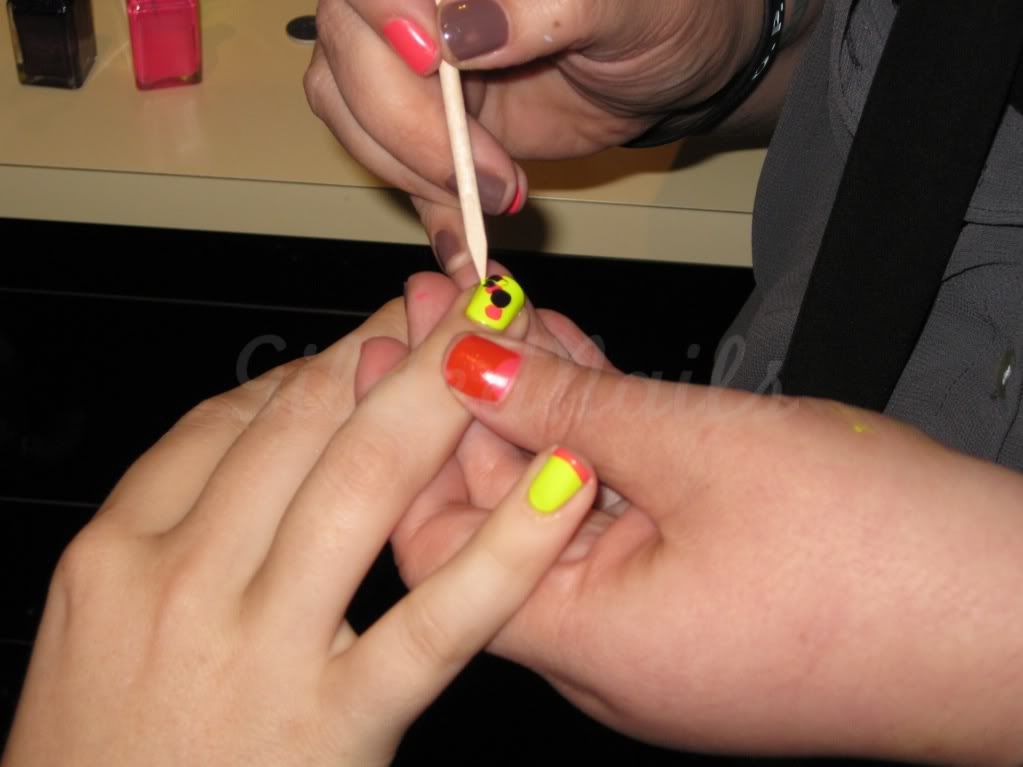 (Free hand marbling! She made it look too easy!)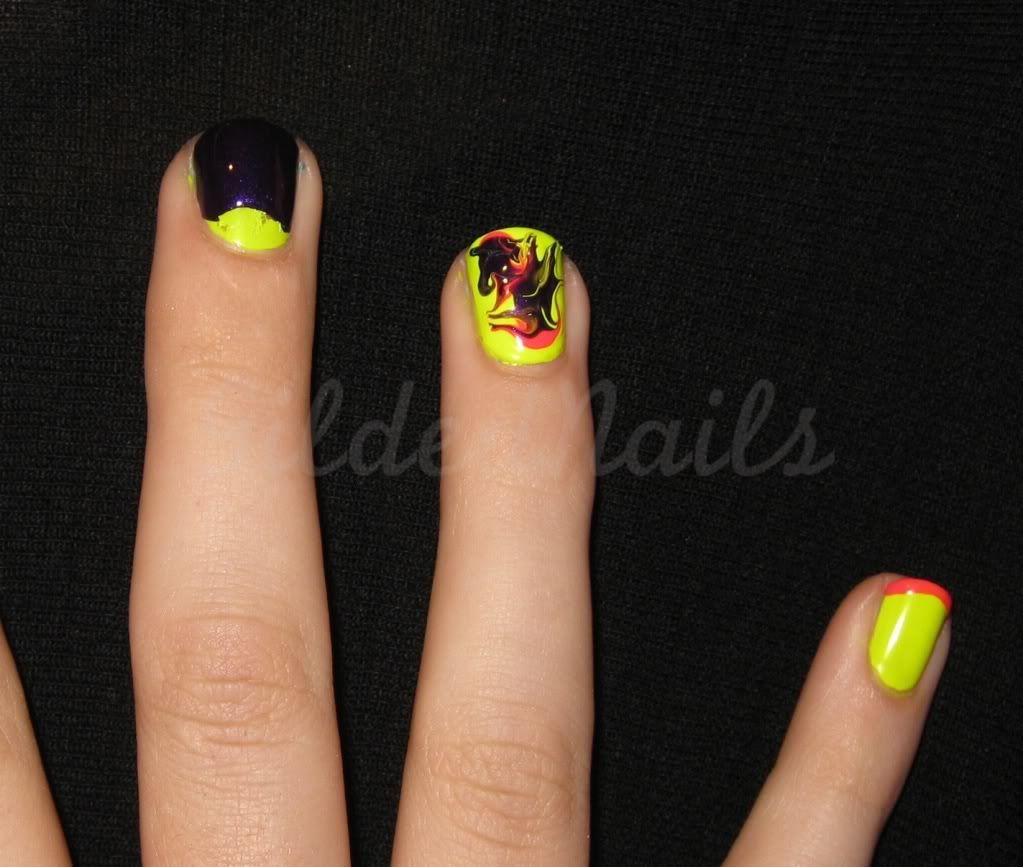 Finally, here is a quick shot of Mandi doing my nails! I'm pretty camera shy, but I thought it would be a shame not to get at least one shot of her working on my nails! A big thank you to the lovely Frances from the Illamasqua counter, who kinldy touched up my blush and lippie so that I didn't look like a wreck in the photo!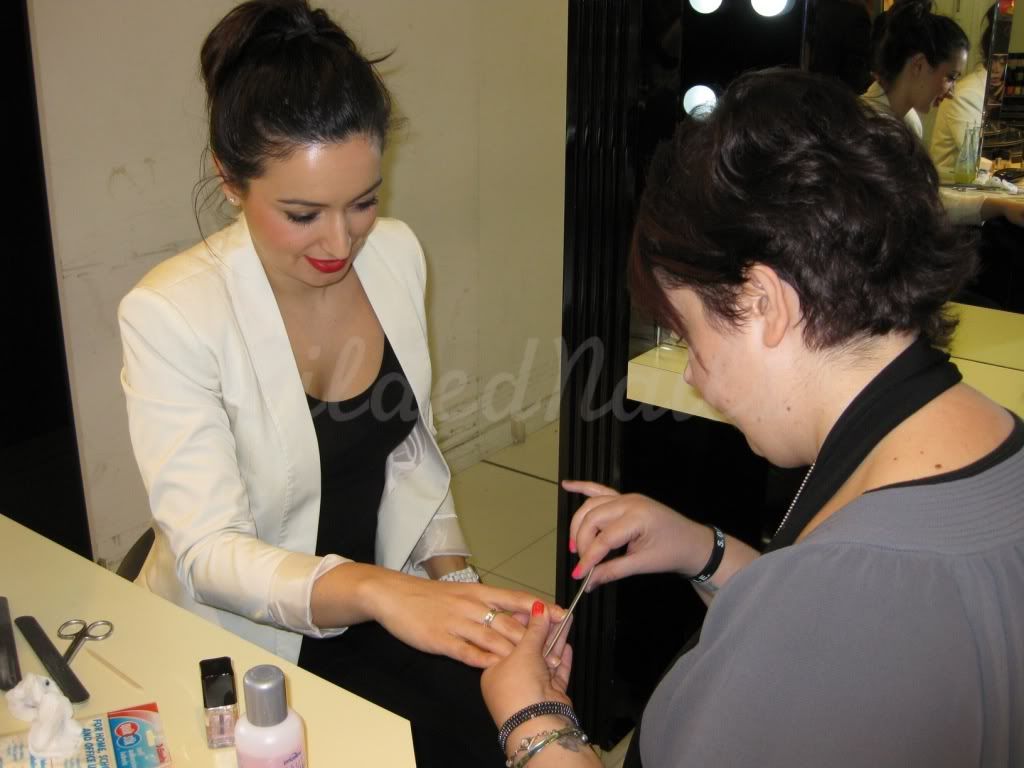 The toughest part of the night was choosing which colour to paint my nails! They all looked so gorgeous!
So in the end we decided the only real option was to do a skittle mani, and this is what I ended up with! Haha!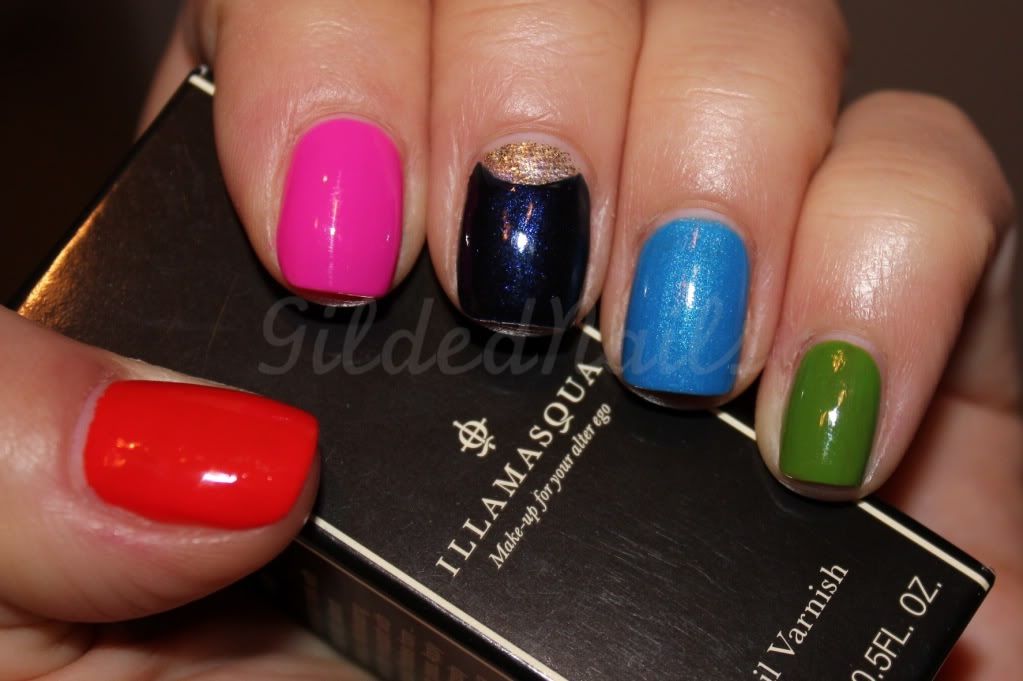 A big thank you goes out to Mandi for sharing her knowledge and expertise and for being so lovely and friendly, and also to the awesome staff at the Myer Illamasqua counter! If you guys have the opportunity to attend one of these Masterclasses in the future, I definitely recommend you check it out!