Hey everyone! Hope you are having a great weekend! Sadly I have felt really unwell this weekend, so I spent all day in bed today. The weather was really crappy outside, so even though I felt sick it was kind of nice to just chill out and watch movies.
I didn't really feel up to doing my nails or swatching but I really wanted to show you guys the amazing swap package that Cristina from Let Them Have Polish sent me last week! She was kind enough to help me get my hands on the China Glaze Tronica's that I wanted and she also included a stack of other surprise polishes in there as part of our swap!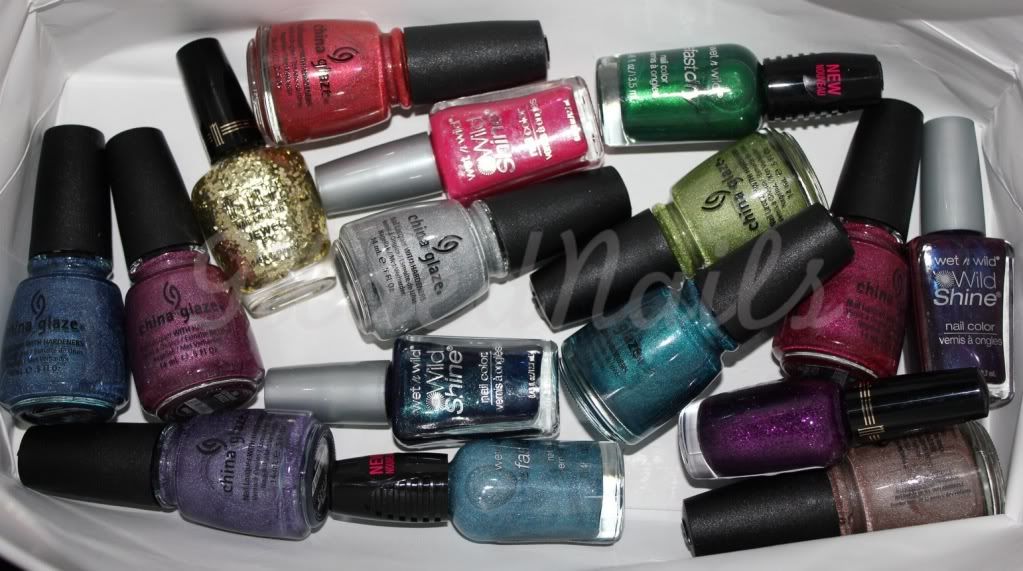 I absolutely love the polishes she sent me! Thank you Cristina! You are a sweetheart!
I was hoping to swatch them all this weekend, but as I said, I honestly didn't feel up to swatching. But the other day when I was playing with the BB Couture polishes I got, I decided to experiment with some glitter over the top of Painted Lady and I used the Milani Jewel FX in Gold that Cristina included in the package!
I'm not sure I like the combo (I love them individually though!), but it was just a bit of fun, so I thought I'd show you..... (Sorry, photos aren't the best!)
In other news, I have finally replied to all the comments you guys have posted over the past couple of weeks! Never again will I let myself get so behind in comment replies! I'm so sorry for being such a slacker!
In the process of replying to comments, I realised that I never posted Part 2 of my China Glaze Anchor's Away swatches! haha! What a scatter brain! I think the time has passed to post them, but I might still do it if I run out of other things to post!