Hey everyone! Hope you all had a fantastic Easter! We had an extra long weekend here in Australia because the ANZAC Day public holiday fell on Easter Monday. So we got 5 days off in total! My fiancee and I took the opportunity to fly to Adelaide to visit family and my 8 month old cousin. I had all these plans to blog over the long weekend, but I was having so much fun hanging out with family and going on day trips to the famous South Australian wineries, that I just didn't feel like getting online! Sadly, my holiday is over now so I'm back to work and back online!
Today I have Part II of my Face of Australia Molten Metallics swatches for you. If you missed out on Part I you can check out my swatches here.
White Gold - Light champagne frost. This is a very cool toned, super frosty, but very opaque polish. I really liked the colour, but not a fan of the brush strokes. This was two coats.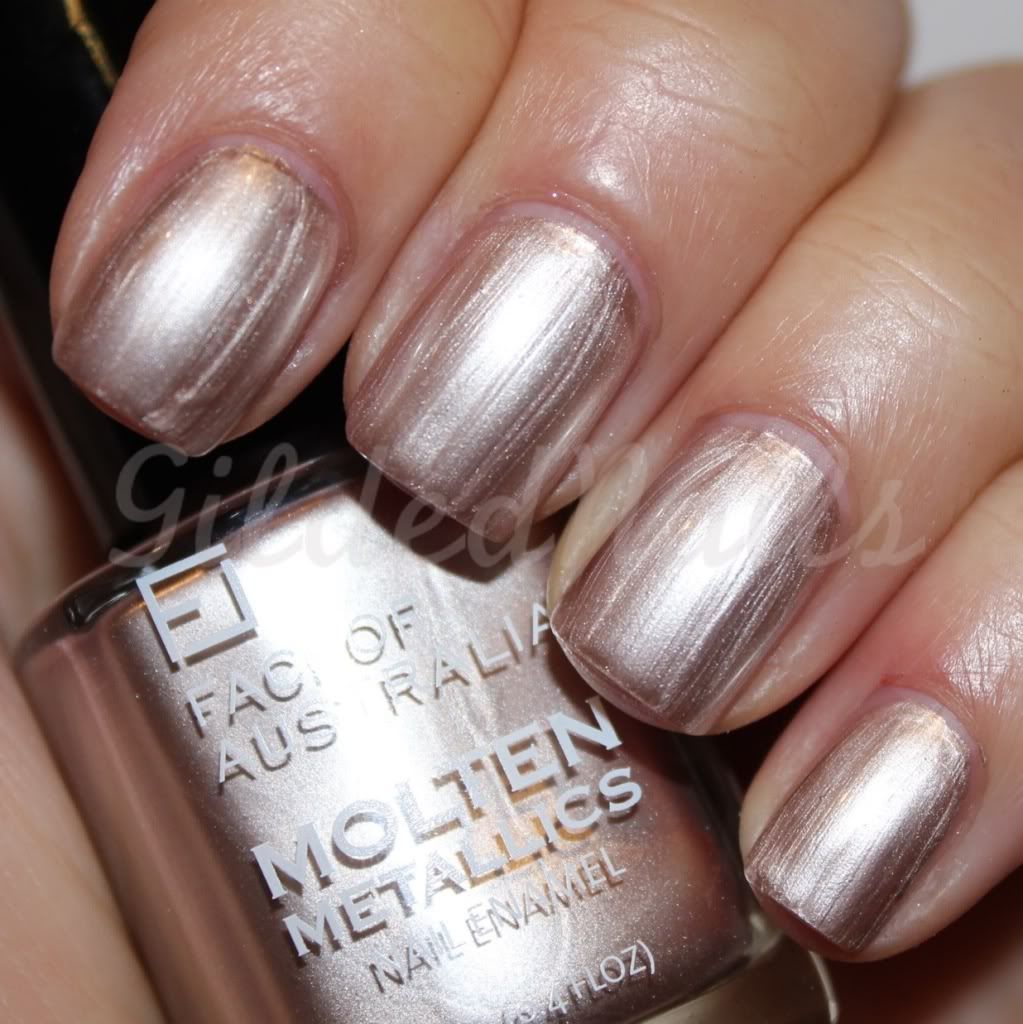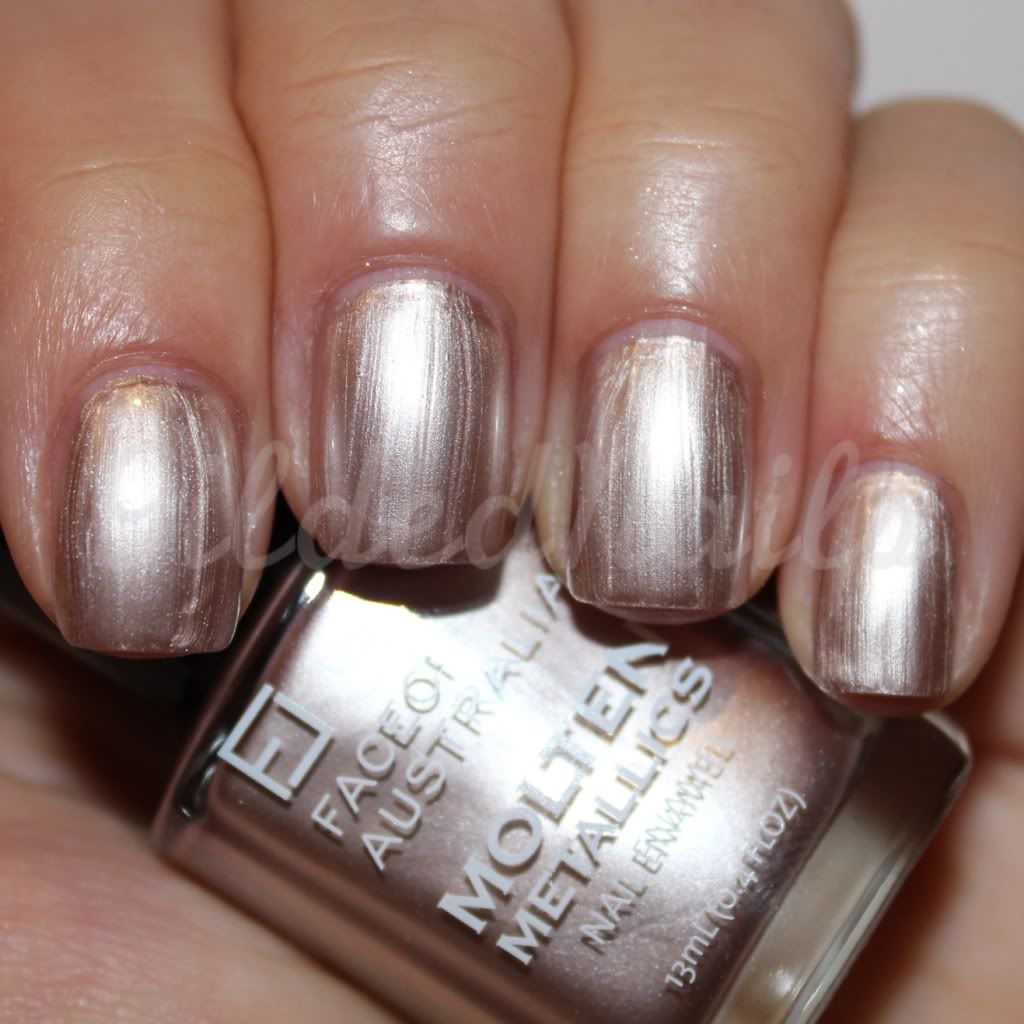 Iron Ore - Black with silver and blue shimmer. This was one of my other favourites from the collection! It was really opaque and applied very easily. I used two coats for consistency. My camera didn't do this polish justice and you can barely the blue shimmer in my pics, but it is definitely there!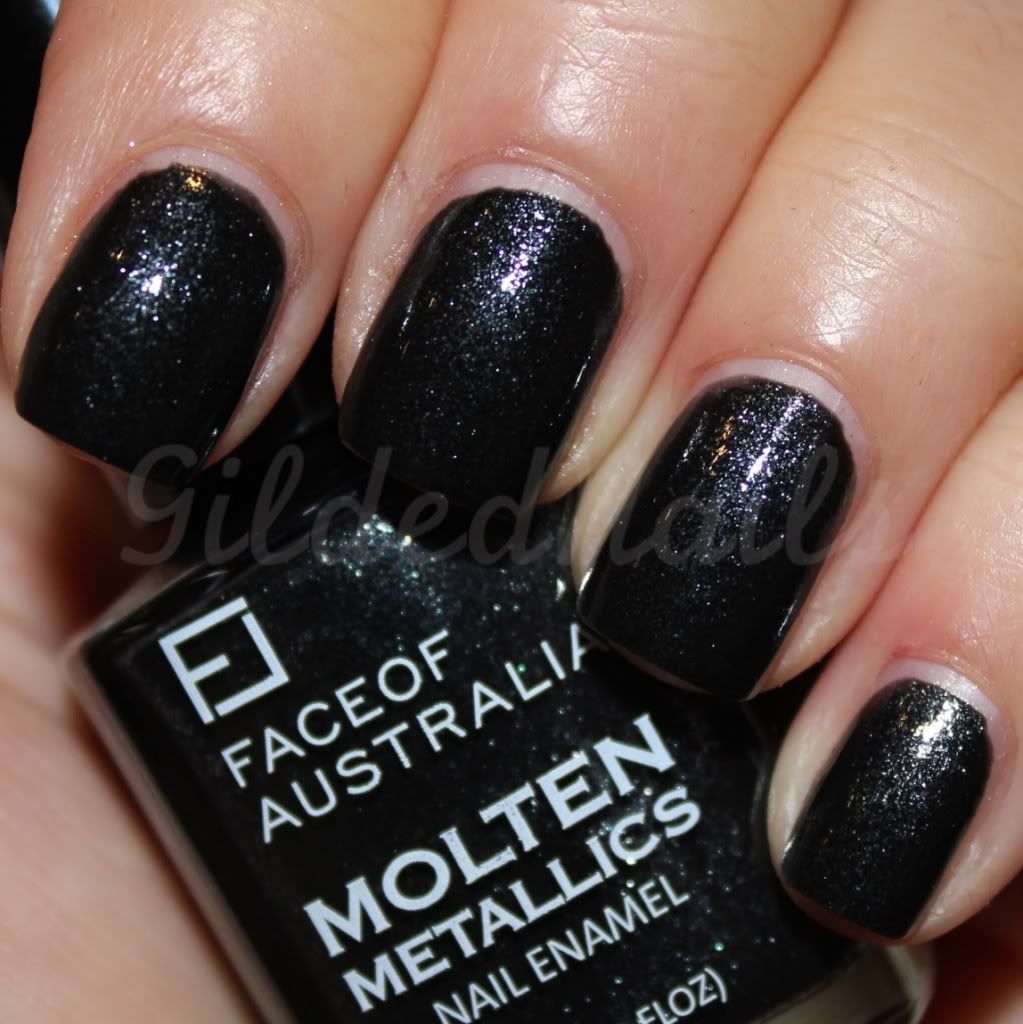 Gold - Yellow toned warm gold foil with silver shimmer. I was really surprised by this one. Despite some initial reservations, it actually looks really great on the nails and I think that is because it has such a great formula! I used two coats, but you could get away with one.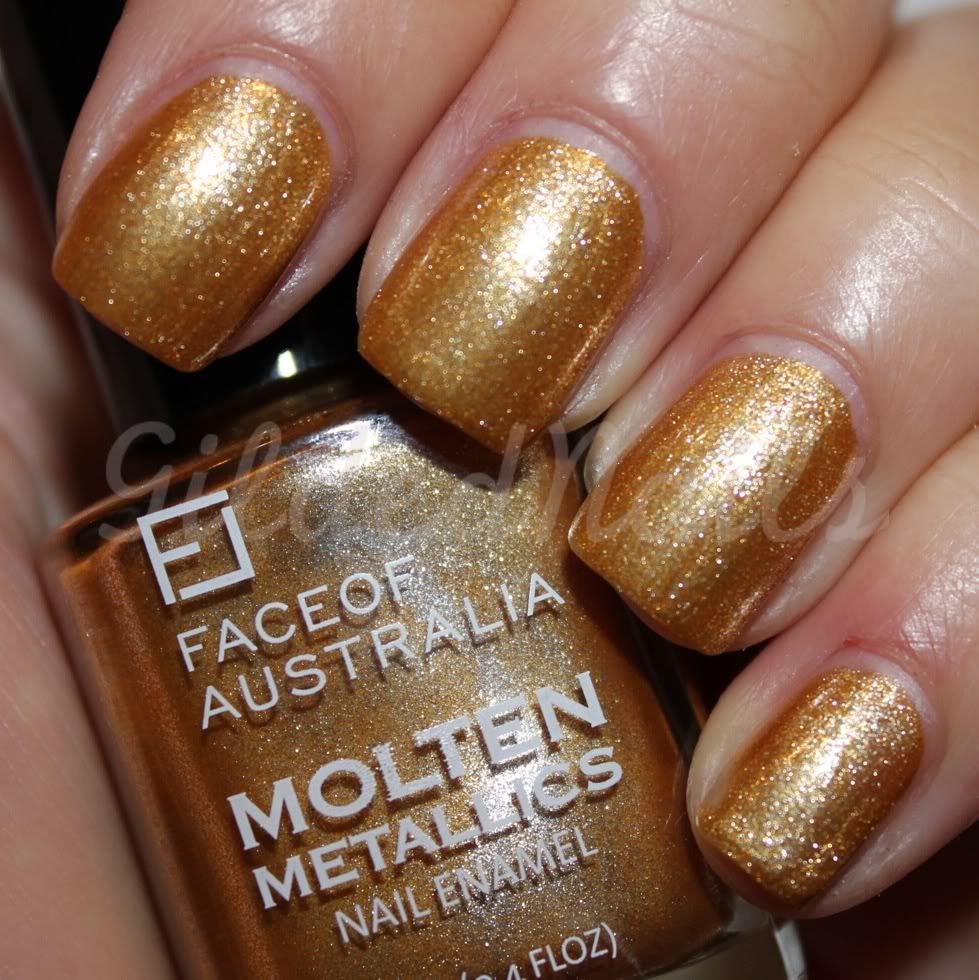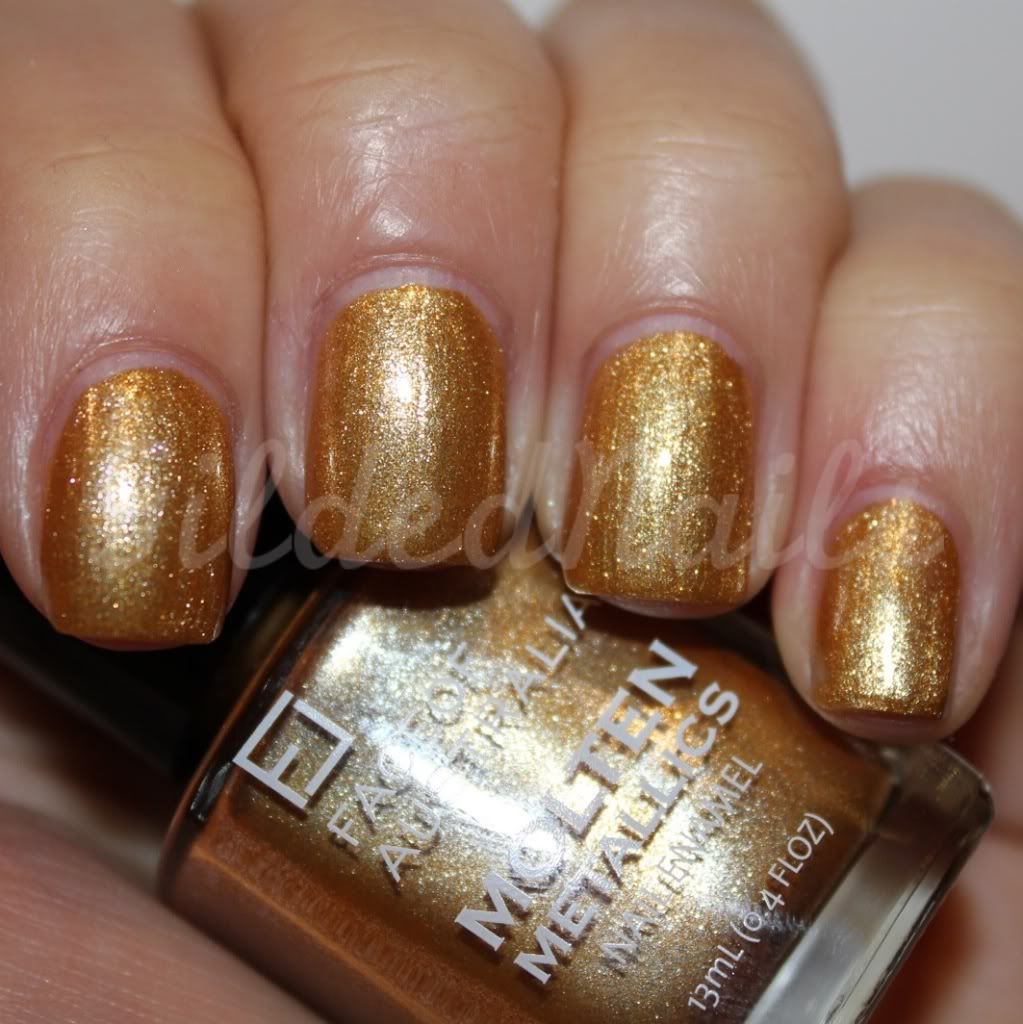 Flaming Lava - Vibrant red with gold micro shimmer. This polish is hands down the winner from the collection! A total must have! Not only does it look amazing, but it applied like a dream and has a super glossy finish! Sadly, when I was swatching this one, I dropped it on my tile floor and the bottle smashed into a million little pieces and red polish went everywhere! It took me an hour to clean up! As such, I will be heading out to my nearest Kmart to buy another bottle when the collection launches in May because I must wear this colour again!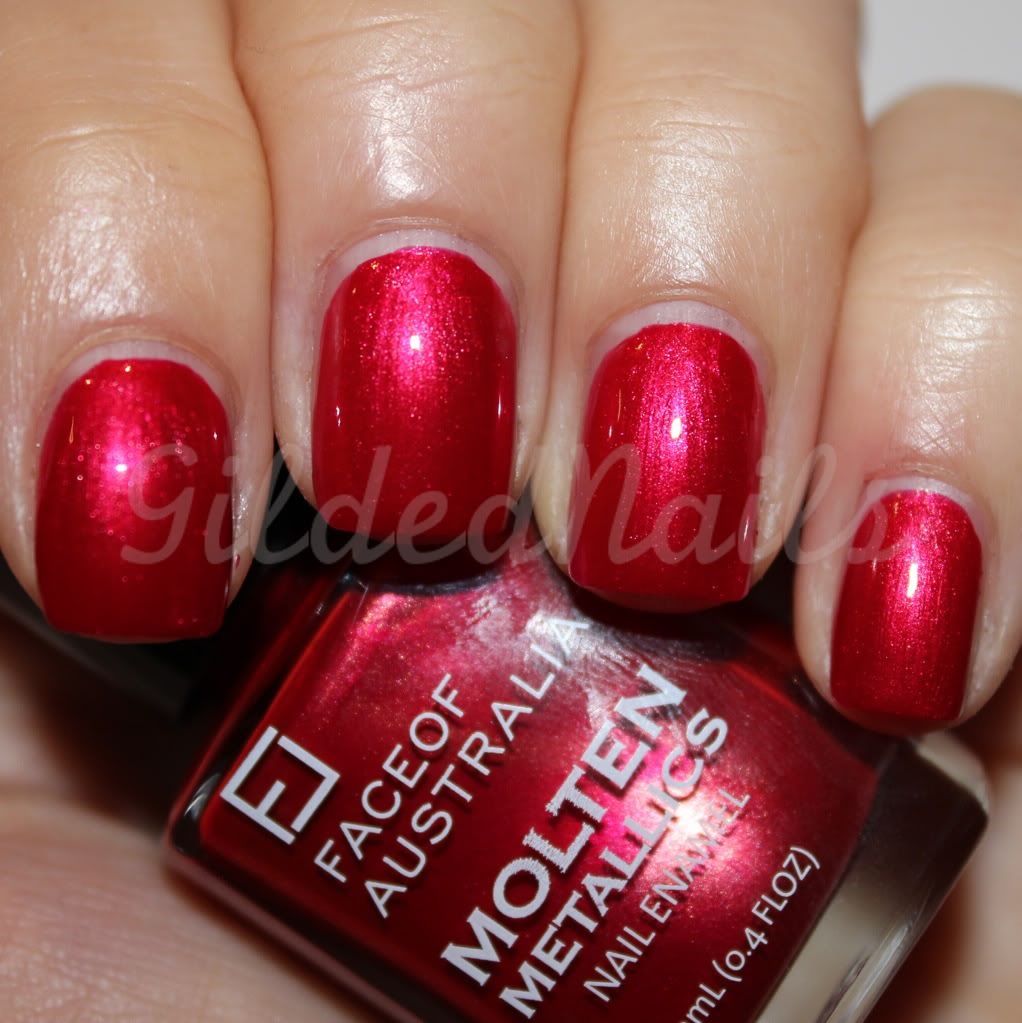 Overall, I think the stand outs for this collection are Verdigris, Flaming Lava and Iron Ore, but I found all the polishes had a great formula, despite some of them being a little too frosty for my taste.
Molten Metallics is a limited edition collection that is due to be released in May and will be stocked in Priceline, Kmart, Big W and other selected pharmacies. The polishes in this collection retail for $4.95AUD each - which is a bargain if you ask me!
Face of Australia polishes are toluene, formaldehyde and dibutyl phthalate free and you can learn more about the company and their products here.

The items featured in this post were provided for review. For further information on GildedNails' Disclosure Policy, please
click here
.