Hey everyone! Today I have a comparison post for you featuring Chanel Mimosa vs. Rescue Beauty Lounge Yellow Fever and Revlon Top Speed Electric.
For someone who doesn't like yellow nail polish, I really have quite a few of them! You will see from the photos, the reason I don't like them is because they just don't suit my wintery white skin tone. However, I'm holding out for summer when I have a tan, in the hope that they will look better on me then!
I probably have about 10 yellow nail polishes in my collection but I have chosen to show you the two that I thought were closest to Mimosa. The others, like Barielle's Soul-er Powered, aren't even close, so there was no point in doing a comparison.
First up is Rescue Beauty Lounge Yellow Fever and Chanel Mimosa.
As you can see from the photo, Yellow Fever is a lot brighter than Mimosa and
has silvery white microshimmer
where as
Mimosa has gold microshimmer. The other major difference is the application. While I have never found a yellow polish that applies well, Yellow Fever definitely applies easier than Mimosa. I used two coats of Yellow Fever and three coats of Mimosa for the photo. Mimosa was a streaky hot mess!
The final point of difference is the price. Chanel polishes retail for $25USD ($39AUD), while Rescue Beauty Lounge polishes can be picked up for $18USD (approx $17AUD) on their website. If I had to chose between the two, I would take Yellow Fever without a doubt!
(click on the photo to take a better look)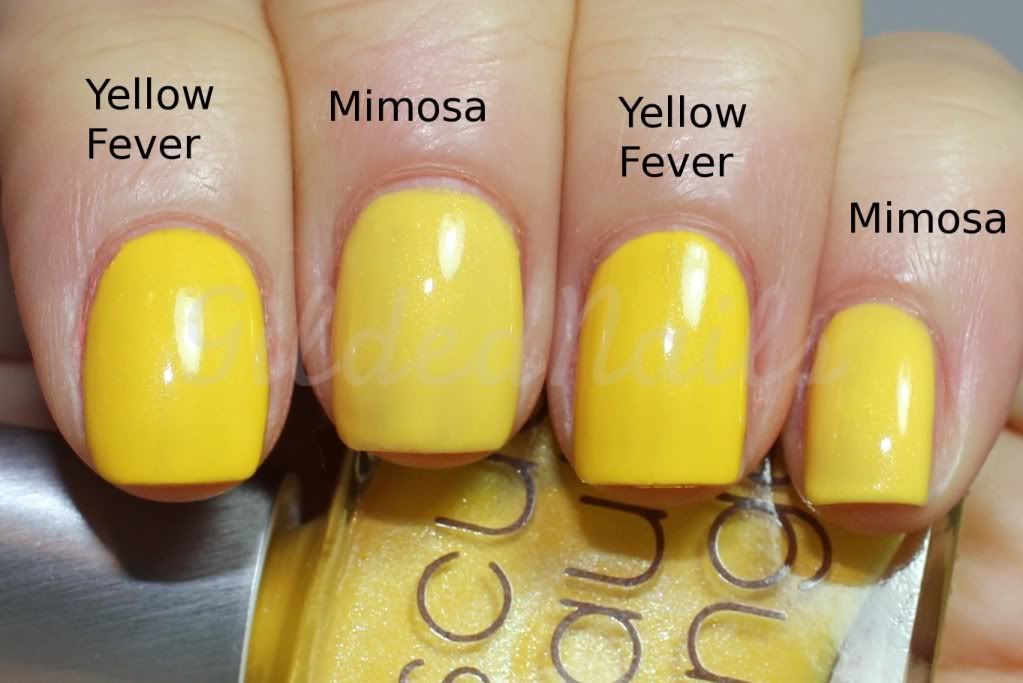 The second comparison is between Revlon Top Speed Electric (#305) and Chanel Mimosa.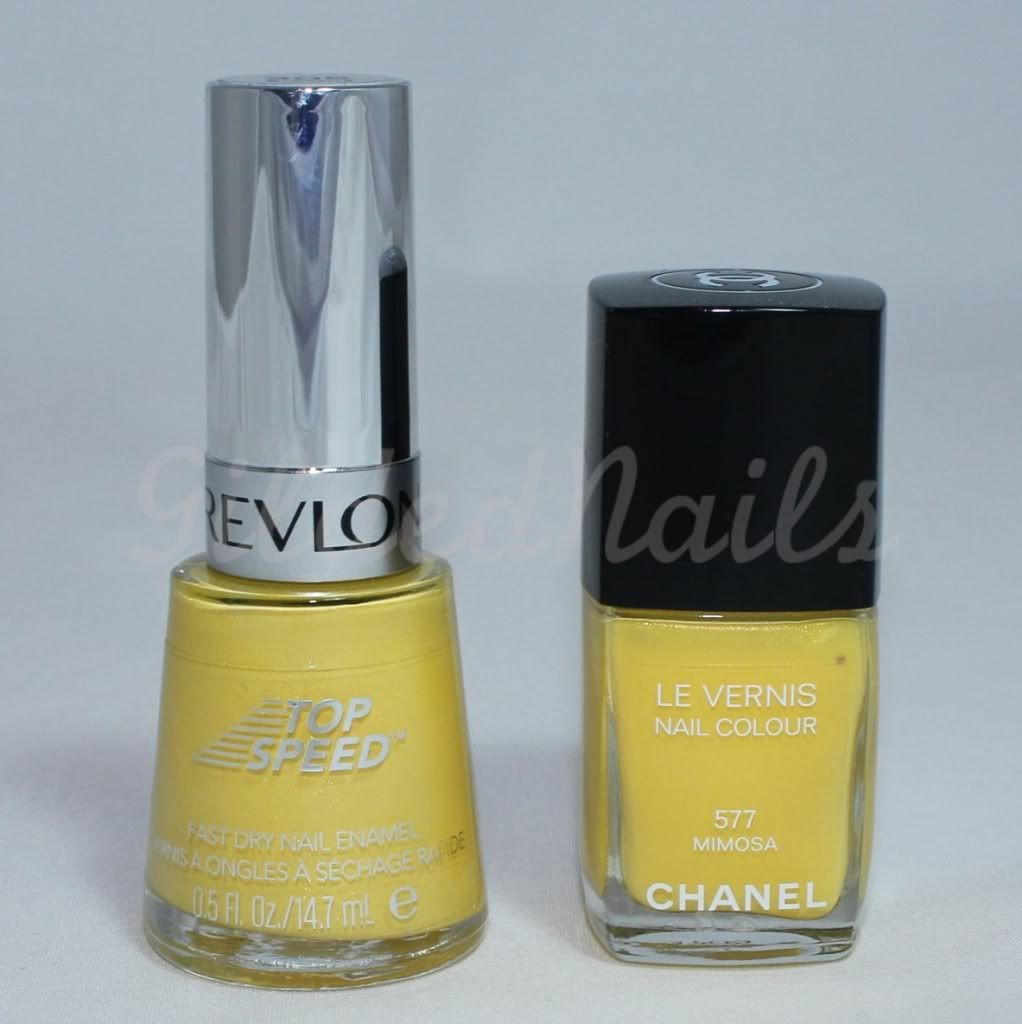 Electric and Mimosa are a lot closer in terms of colour, with Electric being just a little lighter. The shimmer in Electric is also the same colour as the shimmer in Mimosa. Application wise, unfortunately both were streaky and required three coats for even coverage. However, I can forgive Electric for being a little streaky when it only costs $5.99USD ($15.95AUD) compared to the $25USD ($39AUD) for the Chanel.
If I had to pick between the two, I would definitely reach for Electric, not Mimosa!
(click on the photo to take a better look)
As far as I am concerned, if I am going to pay $39AUD for a polish, I want it to glide on my nails and look perfect after two thin coats. Unfortunately, Mimosa just doesn't live up to those expectations, so my recommendation would be to grab Yellow Fever or Electric over the Chanel. Your wallet will thank you and you can still get your fix of yellow nail polish! For those of you that missed out on Mimosa, don't be sad! You are much better off grabbing one of these other polishes!