Hey everyone! As promised, here is the first of my scheduled "hiatus" posts featuring the Cult Nails Hypnotic collection for Fall 2011.
A few weeks back, the lovely Maria from Cult Nails contacted me to find out if I would be willing to review her new collection. Well duh!! Of course I was willing! I freakin' love Cult Nails polishes! What I didn't know at the time was that I was one of only 8 bloggers chosen to review this collection! You can imagine how excited and honoured I was to learn this!
The thing is, my excitement about this brand doesn't just stem from my unhealthy obsession with nail polish - I really do have a lot of respect for Maria and the success she has achieved with Cult Nails in such a short time! I have always wanted to start my own nail polish company and I know how much hard work is involved (this being the reason I haven't done it yet!) so I am completely in awe of Maria and her fabulous brand! She is living every nail blogger's dream and I can only hope to do the same one day!
Soooooo, now that I have got all that gushing out of my system, let's check out the swatches!
In a Trance - Olive green with green and gold microshimmer. I fell in love with this colour as soon as I saw the press image and I'm glad to say it didn't disappoint! The formula was fantastic – I only used two coats for these photos. For some reason, it looks patchy on my pointer, but I did not see that at all on my nails – it only showed up in the photos. I swear I can see a flash of pink in this as well sometimes, but unfortunately I just couldn't capture it.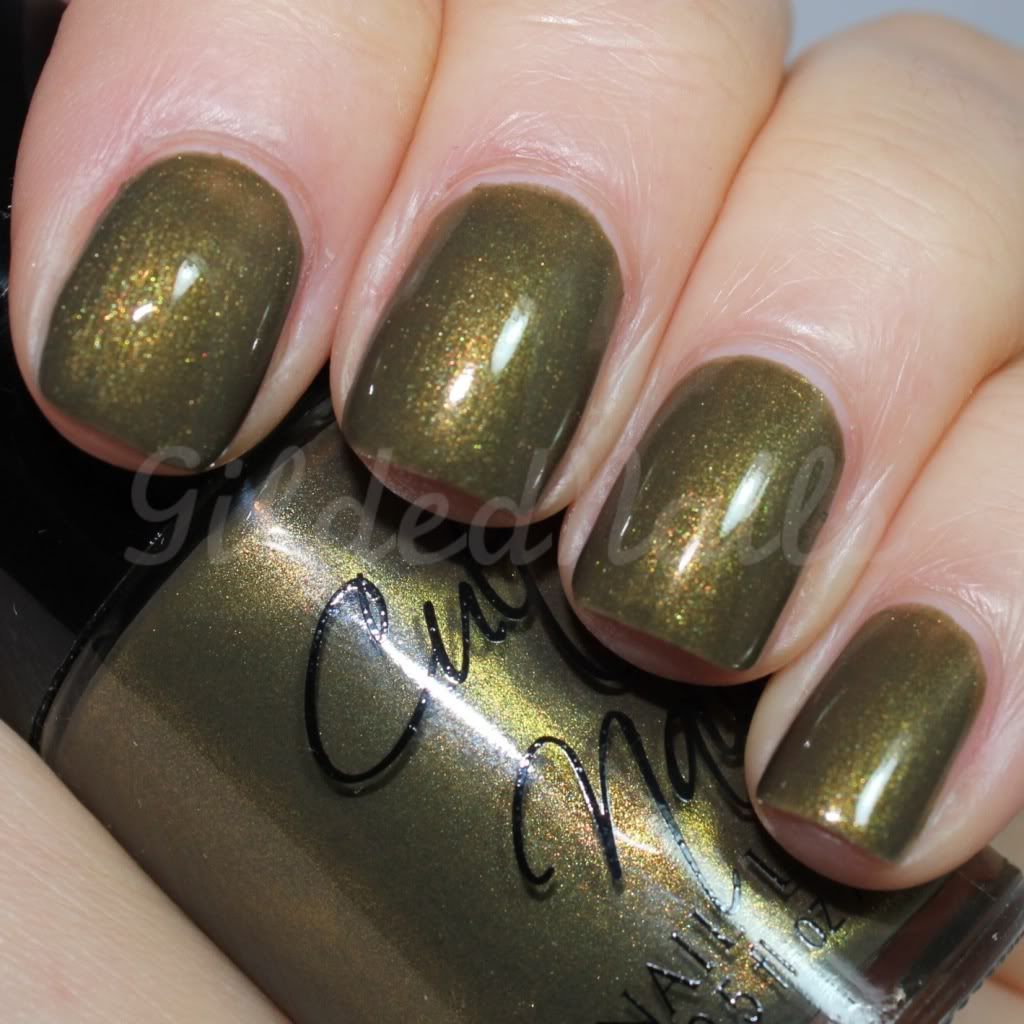 Awakening – Dark dusty teal cream. I say 'cream' lightly, because the formula was quite thin and watery, which gave it an almost jelly like consistency. However, with three coats, it was completely opaque. Maria says that she wanted some core colours in her line and this is one of them. I love how glossy the finish is. Gorgeous!
Enigmatic – Dark purple/black with fuschia, blue and purple microshimmer. This one really surprised me! With the first coat, it was pretty patchy and sheer looking, but after the second coat, the microshimmer suddenly popped out! I used three coats and the end result is a gorgeous deep purple shade that has that "glow from within" appearance and a super glossy finish. This is definitely my favourite!
Hypnotize Me – Pale green jelly with blue and green microglitter. I la la love the way this looks in the bottle, however applying it was another story because the formula wasn't great. I found it to be extremely thick so I had to add about 6 drops of thinner to make it more useable. With the thinner, the formula improved a little, but I still think it will require a few more drops before I'm 100% happy with it. Hypnotize Me is intended as a layering polish so I thought I'd show you what it looks like over each of the colours in the collection. I especially loved the way it looked over Awakening.
A blurry shot to you show you the sparkle!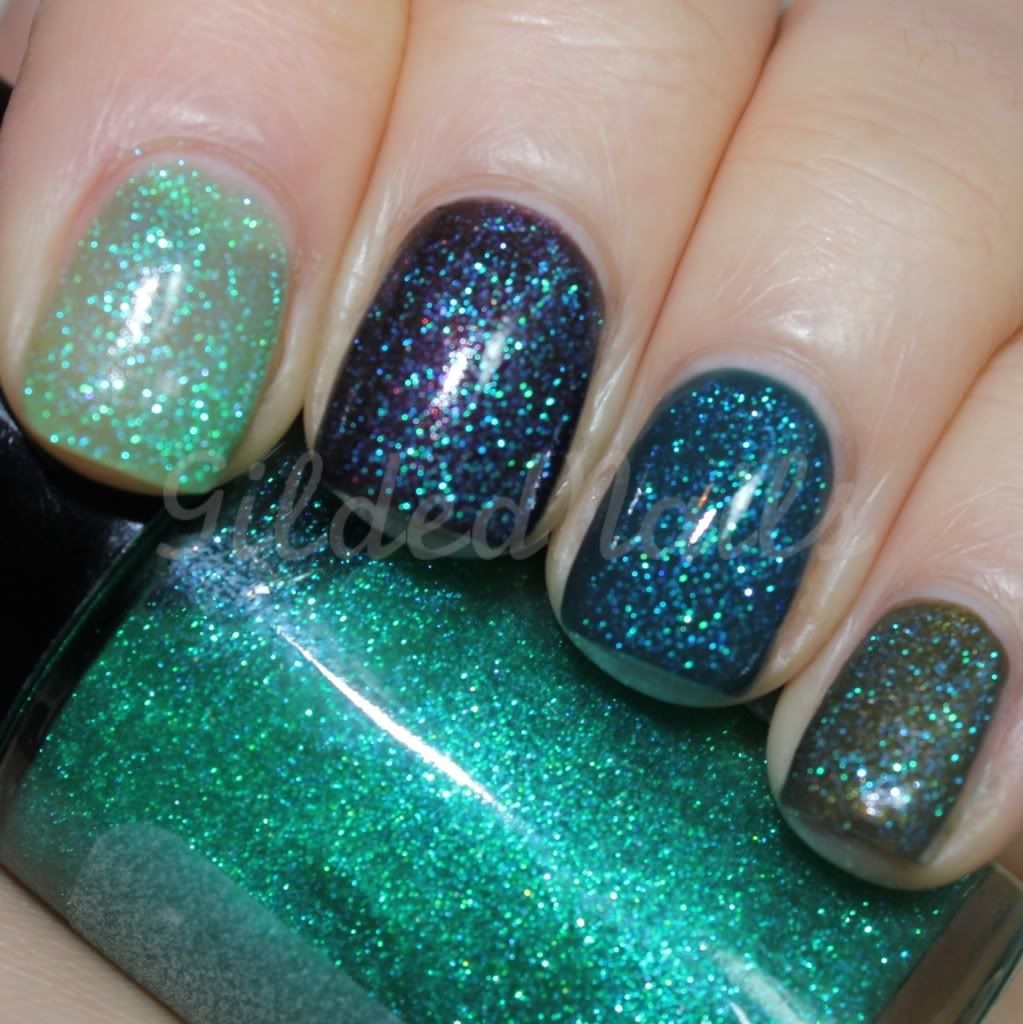 I also wanted to quickly mention the Cult Nails bottles and brushes. Personally, I'm not a massive fan of the bottle shape, only because I don't think it reflects the unique beauty of Maria's polishes. However, with that said, I think that she has chosen a great brush! It is a regular looking round brush with long bristles, but it is the perfect density! Not too stiff that you get patches or streaks, but not so soft that you dont have control over the brush. It fans beautifully to make application of the polish quick and easy.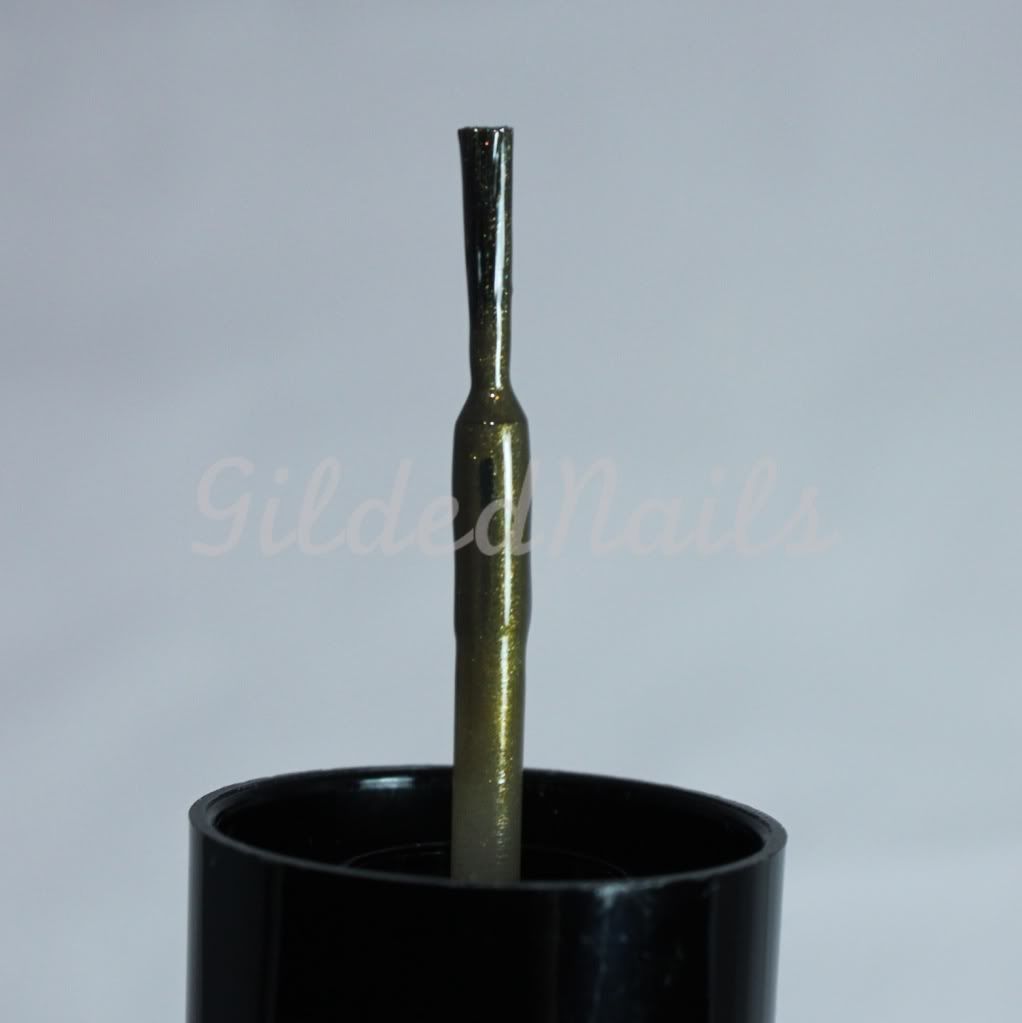 Overall, I think this is a fantastic collection. The formula of Hypnotize Me is not the best, but the originality of the colour more than makes up for this!
The Cult Nails Hypnotic collection will be available to buy online at www.cultnails.com from late August/early September. Each 0.5 fl. oz. bottle sells for $10 USD. Cult Nails lacquers are DBP, Formaldehyde, Toluene, and Camphor free and are not tested on animals.
Just as an aside - I don't have a photo of what I am about to tell you because I didn't want to plug another brand in this review, buuuuuuttttt, when I was doing my swatches I had a certain blue jelly (*cough* Royal *cough*) next to me so I thought I would just quickly try Hypnotize Me over it and HOLY AMAZEBALLS BATMAN! They are a match made in heaven! I will definitely be wearing the combo as a full mani and when I do, I'll take photos and do a separate post on it!

The items featured in this post were provided for review. For further information on GildedNails' Disclosure Policy, please
click here
.